Full-Time

Activities Aide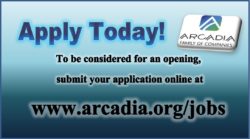 Job Description
We are seeking an experienced Activities Aide to join the Health Care Center at the Arcadia Retirement Residence.
The position is Full Time (40 hours per week) and the successful applicant must be flexible to work various days and shifts as scheduled.
Key Responsibilities include but are not limited to:
• Assists in planning, organizing, and directing medically approved programs for residents in the Wellness Center
• Performs activities such as exercises, games, and arts and crafts to assist residents to develop interpersonal relationships, to socialize effectively, and to develop confidence needed to participate in group activities.
• Regulates content of program in accordance with residents' capabilities, needs and interests.
• Assists with implementing special outings and accompanies patients on outings such as luncheons, sightseeing or picnics.
The Successful Applicant must have:
• One year certificate from college or technical school; or one to two years related experience and/or training; or equivalent combination of education and experience.
• Proficiency in MS Office Suite, includes, MS Word, Excel, Powerpoint, and Outlook.
Please apply online at www.arcadia.org/jobs
We do not accept resumes for open positions, so please complete the application process to be considered for employment
The Arcadia Family of Companies is comprised of the following non-profit organizations:
Arcadia Retirement Residence
15 Craigside
Central Union Adult Day Care and Day Health Center
Kilohana Senior Enrichment Center
Arcadia Home Health and Home Care Services
Arcadia at Home
The Arcadia Family of Companies is an Equal Opportunity Employer

280 total views, 1 today
Apply for this Job