Internship

Intern Eco-Community Manager in Big Island, Hawaii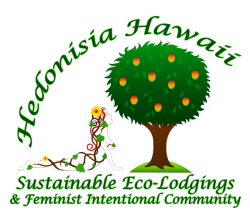 Job Description
The Hedonisia Hawaii Eco-Community Manager Intern Program offers you an opportunity to learn about 'eco-tourism',  'volun-tourism' and feminist entrepreneurship at our rainforest eco-community.
This program is immersive; interns live, work and learn to manage a community of travelers and volunteers in Hawaii.
Once they have completed their training and 'pass' their Review session, an Intern Community Manager has only 2 full work days per week. This 'pays' for their lodgings in paradise!
This internship is perfect for artists, writers, computer telecommuters or musicians who will have ample time and space to do their own work while managing a sustainable community in Hawaii!
Whether you are looking to settle in Hawaii or simply wish to enjoy a longer vacation, our 2-day work week leaves plenty of time to find a job for extra income or to enjoy being an 'eco-tourist'!
Aside from ecotourism, our little community also works on a number of ecofeminist projects on the property with our Jungle Queen program,
As part of their duties,  Interns get an opportunity to work on our Feminist Entrepreneur Web Portfolio as part of their daily duties!
Training Fees & Requirements:
There is a $695 fee for the 3-week training which includes lodgings at our rustic community and the right to harvest any food growing on the property.
At the end of the 3 weeks training, you will have a Review where you will be tested on the training you have received. Once approved you are welcome into the program. Approved candidates then enjoy a two day work week to live in paradise for up to one year!
To find out more about this internship please click on the following links:
We look forward to working with you at our Hawaii community!

4405 total views, 1 today
Apply for this Job