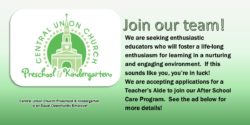 Job Description
Teacher Aides
Central Union Church Preschool & Kindergarten
Location: Honolulu, Hawaii
• Free Parking
• "We Engage and Embrace ALL as we seek to Embody Christ!"
We are seeking experienced Preschool Teacher Aides to join Central Union Church Preschool and Kindergarten's after school program.
The positions are Part Time (20-38 hours per week) working 2:00pm-5:30pm Monday through Friday, with schedule flexibility as needed.
Key Responsibilities include but are not limited to:
• Discusses assigned teaching area with classroom teacher to coordinate instructional efforts.
• Prepares lesson outline and plan in assigned area and submits outline to Director for review.
• Plans, prepares, and develops various teaching aids such as art activities, experiments, charts, and graphs.
• Presents learning opportunities to children utilizing a variety of methods and techniques such as demonstration, exploration and supervised role playing.
• Assists students, individually or in groups to present or reinforce learning concepts.
• Supervises children at all times.
The Successful Applicant MUST have:
• Current Hawaii State Department of Human Services Canoes Registry Certificate
• Current CPR and First Aid Certification
• Successful pass on all required background screening
• Ability to use Microsoft Word
Please apply for the position you are interested in by emailing a Cover Letter and Resume to cucemployment@arcadia-hi.org
Central Union Church is an Equal Opportunity Employer

104 total views, 1 today
Apply for this Job