Temporary

Toddler Teacher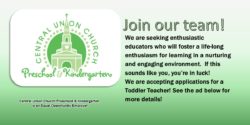 Job Description
Toddler Teacher (temporary)
Central Union Church Preschool & Kindergarten
Honolulu, Hawaii
We are seeking an experienced Toddler Teacher to join the team at CUPS.  The position is Temporary Full Time (40 hours per week) working from 7:15am-3:00pm from Monday through Friday from March 27, 2018 to May 31, 2018.
Key Responsibilities include but are not limited to:
Plans curriculum, individual and group activities, and field trips
Imparts knowledge through various teaching methods including lecture, discussion and demonstration
Leads activities, including both teacher directed and child initiated experiences
Instructs children in practices of personal cleanliness and self-care and full cycling work/activities
Maintains an organized, safe and positive learning environment; manages classroom behavior
Serves meals and refreshments to children. Attends to children's needs
Evaluates, records and reports on children's progress
Communicates with parents through various means such as conferences and reports
Supervises children at all times
The Successful Applicant must have:
Associate Degree in Early Childhood Education or equivalent, plus one to two years related experience (minimum). A Bachelor's degree (or better) in Early Childhood Education from an accredited four-year college or university or equivalent combination of education and/or experience strongly preferred.
Must have current Hawaii State Department of Human Services Canoes Registry Certificate
Must successfully pass all required background screenings
CPR and First Aid certification
Requires knowledge of Microsoft Office Word software
To apply, please email your cover letter, resume, and CANOES registry certificate to CUCemployment@arcadia-hi.org.

39 total views, 1 today
Apply for this Job