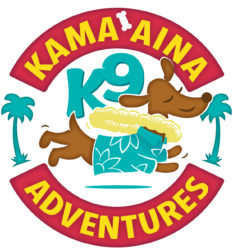 Job Description
Kama'aina K9 Adventures is looking to add DOG HANDLERS/ ANIMAL CARETAKERS to its staff, located in Kunia. Hourly rates start at $11 / hour depending on experience plus  tips. Both part-time and possible full-time available. Must be available on some weekends and preferably on afternoon shifts. We offer both benefits and growth within the company.
Previous experience handling and caring for dogs in a professional setting is preferred but not necessary. Applicants must be highly ethical, reliable, have a passion for working with dogs, be easy to work with, don't mind getting dirty, be able to lift at least 40 lbs, possess excellent communication skills, and have strong references. Kama'aina K9 Adventures is a small but close-knit group of individuals who believe in having fun on the job, trusting each other, and honest communication, all while leaving any intracompany politics at the door.
PLEASE FOLLOW THESE DIRECTIONS PRECISELY – if interested, please send a RESUME and brief COVER LETTER introducing yourself and why you are interested in the position to Info@kamaainak9.com
Blind applications or those not following these instructions will be ignored.
About us:
Kama'aina K9 Adventures, based on 2.5 acres in the Kunia mountainside, is Hawaii's first doggie theme park. Our innovative outdoor facility features six different adventure parks, including a jungle park with pools, miniature city, puppy park, tiny tot park, agility park, and petting zoo, all with a million-dollar view! Our mission is to help Hawaii families create and maintain balanced K9 companions through socialization, exercise, and structure. Please visit us at www.kamaainak9.com for more information about the company.
88 total views, 1 today
Apply for this Job