Freelance

Caregiver for Elderly 88 yo man
NOTE: This job listing has expired and may no longer be relevant!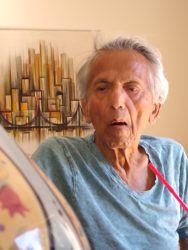 Job Description
Note: you must fill out application questions at the end. If you just email you will not be considered. please feel free to also send any note, but we are only screening people who fill out questions.
Seeking scheduled daily caregiver for 87 year old man (left in picture), who needs daily help. Currently, we need weekday evening help. Two shifts a day 8 – 1pm and 4:00pm – 8:30pm. August/Sept/Oct, but might go beyond.
Must be able to transfer someone who is about 130lbs. In other words, you need to lift and move from bed to chair to toilet
$16/hour with a consistent schedule ($14 base + $2 bonus if you come on time and complete all tasks everyday). Currently we are looking mainly for weekday evening shifts from 4:00pm – 8:30pm.
Must be very reliable, personable and patient. If you can't consistently answer texts and phone calls, and always be on time, then this is not for you.
Must be computer competent and able to help with basic computer tasks like booting computer, logging in and getting netflix working. Must be able to type daily notes in an app or computer, and print forms, etc…
Help must be provided for getting to the bathroom, dressing, changing diapers, showering and light cleaning of the house. Must also be able to organize materials in the house on a daily basis.
You must be able to lift up a 130lb man (not over your head, but onto his feet).
This is best for someone who lives close by Palolo area. You don't have to be license or certificate but basic care giving experience is needed. And you need a lot of common sense and ability to follow directions 100%. You must also be very very reliable, good at organizing and must be able to effectively use computers. if you can not make it on time every time, and be 100% consistent, please don't apply.
Please fill out these questions if you are interested. If you only e-mail reply and don't fill out the questions, you will not be considered. We are just going through the answers for screening.
https://forms.gle/micGkJBrgb2ee3zQ6
84 total views, 1 today
Apply for this Job