Full-Time

Kailua Kona, Hawaii – Mover, Delivery Driver – Customer Service
NOTE: This job listing has expired and may no longer be relevant!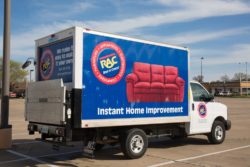 Job Description
Hello! Rent-A-Center is Now Hiring; Delivery Specialist! Interested in a minimum starting hourly rate of $20?
Please copy & paste the link down below & submit your application on our website.
https://raccareers.com/
Summary/Objective
Delivery is up to 65% of the job daily & is a combination of in store phone calls to past due customers as well as outside deliveries!
This non-exempt role is the store's DELIVERY SPECIALIST, reporting to the Store Manager. The Delivery Specialist provides the highest level of customer service and gets the opportunity to interact directly with our customers, often inside their homes! With that in mind, the Delivery Specialist's key responsibilities include (but are not limited to):
Customer Service & Sales
• Providing friendly, timely, top-notch customer experiences through
"white glove" service.
• Greet and assist customers on the sales floor.
• Obtain new rental orders on the sales floor and over the phone.
• Complete rental agreements as required.
• Prospect for new business by telemarketing and distributing print
materials.
Account Management
• Maintain accurate records of customer account activity, to include
current and past due accounts.
• Review past due accounts and communicate in person and via phone
with the customers to promote timely payments.
• Collect customer payments on a timely basis and meet daily/weekly
collection standards.
• Complete customer service calls in a timely manner as assigned.
• Follow all policies and procedures and adhere to all standards.
Deliveries & Pickups
• Displaying a winning spirit through safe and compliant
loading/unloading, installation and instruction, while following all
handling and transportation procedures.
• Proper moving and handling to load/unload truck, or other vehicle, per
policy to safely protect coworker and merchandise.
• Install and set up merchandise and instruct customers on proper use of
merchandise.
• Deliver and pick up merchandise from customer homes as assigned.
• Keep vehicles clean and properly maintained as assigned.
Merchandising • Refurbish merchandise to like new condition.
• Keep showroom, backroom, and all store areas neat, clean, and
organized, including vacuuming, dusting, and handling household
cleaning materials.
We Have:
• Training and development through RAC University
• Medical, Vision, Dental Benefits, weekly pay, vacation, and more.
• Career path and advancement opportunities
You Have: (Job Requirements)
• Strong communication and customer service skills
• Good reading, speaking, and listening skills
• Ability to follow instructions and utilize problem solving skills
• High school diploma or equivalent
• Must be at least 18 years of age
• Valid state driver's license and good driving record
• Able to lift and move heavy items
Physical Demands
The physical demands described here are representative of those that must be met by a Coworker to successfully perform the essential functions of this job. While performing the duties of this job, the Coworker is regularly required to talk and hear. This position is very active and requires standing, walking, bending, kneeling, stooping, crouching, crawling, and climbing all day. The Coworker must frequently lift and/or move (push/pull) heavy items and merchandise.
All Coworkers are expected to adhere to all Company safety guidelines while meeting the physical demands of the job. Expected Hours of Work
This is a full-time position, and hours/days of work are Monday through Saturday, store open to close hours. Schedules and hours per week/overtime work may change throughout the year as
dictated by management and business needs.
Job Type: Full-time
3744 total views, 1 today
Apply for this Job