Full-Time

Virtual Job Fair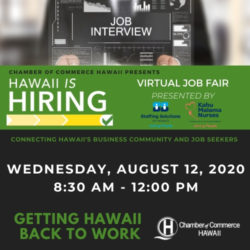 Job Description
Just like an in-person job fair, but without the stress of wearing a mask and worrying about social distancing!
Join the Chamber for its Hawaii Is Hiring Virtual Job Fair presented by Staffing Solutions of Hawaii and Kahu Malama Nurses – connecting Hawaii's business community with job seekers on Wednesday, August 12, 2020 from 8:30 AM – 12:00 PM.
Attendance for job seekers is free, as a benefit to the community and to get Hawaii back to work. Join us on this mission to get Hawaii back to work!
Hawaii is Hiring brings together employers and job seekers, statewide, in a safe virtual environment while still providing opportunities for engagement and interaction. Click here to see some of the jobs that will be featured at the event.
Hawaii is Hiring is an innovative alternative to connect candidates and employers one-on-one, virtually, and will include virtual employer exhibitor booths, virtual peer-to-peer networking, virtual workshop sessions and virtual professional development webinars – all on one Hopin software platform.
Visit the recently launched HawaiiIsHiring.com, the state's one-stop online resource that connects kamaaina to job opportunities, training programs and career navigation.
Agenda-At-A-Glance:
8:30 AM – 12:00 PM – Employer Exhibitor "tables" open
8:30 – 9:15 AM Welcome and Keynote Presentation

​Taylor Meadows, Evangelist (yep, that's his title), Indeed
9:15 – 9:45 AM – Get Hired – Visit employer exhibitors, participate in networking, and attend workshop sessions

Workshop Session: ​Resume and interview tips by Su Lazo, Kapiolani Community College
9:45 – 10:30 AM – Get Noticed – Build Your Professional Brand Online

​Shawna Tarver, Senior Enterprise Talent Sourcer/Recruiter, Microsoft
10:30 – 11:00 AM – Get Hired – Visit employer exhibitors, participate in networking, and attend workshop sessions

Workshop Session: ​Resume and interview tips by Su Lazo, Kapiolani Community College
​​
11:00 – 11:45 AM – Get Hired During COVID-19: Learn about job trends, employer expectations, remote working and more!

Lisa Truong Kroucher, MBA, President and CEO, Staffing Solutions of Hawaii and Kahu Malama Nurses
Rob Machado, Managing Director, Staffing Solutions of Hawaii and Kahu Malama Nurses
​
11:45 AM – 12:00 PM  – Get Hired – Visit employer exhibitors, participate in networking, and attend workshop sessions

Workshop Session: ​Resume and interview tips by Su Lazo, Kapiolani Community College
Register to attend for FREE at cochawaii.org/events
128 total views, 6 today
Apply for this Job