NOTE: This job listing has expired and may no longer be relevant!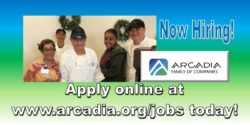 Job Description
We are accepting applications for an experienced Cook to join our Dining Services Team!
Apply today at www.arcadia.org/jobs
Key Responsibilities include but are not limited to:
• Prepares and cooks nourishing family style meals for residents, clients, visitors and employees of the facility.
• Prepares meals according to planned menus and standardized recipes to ensure quality with minimum waste.
• Reviews menus and work orders to determine type and quantities of food to be prepared
• Assists driver and wait staff with food arrangement and distribution
• Receives, checks-in, dates and stocks deliveries
• Ensures food products are cooked and served in compliance with State of Hawaii Department of Health sanitation standards.
The Successful Applicants must have:
• Associate's Degree (A.A.) or equivalent from a two-year college or Culinary program; two or more years related cooking and lead/supervisory experience; or equivalent combination of education and experience
• Culinary Associate Degree program certificate and sanitation certificate preferred.
• Flexibility to work various days/times as scheduled to attend mandatory training and at management's discretion
---
Please apply online HERE and see all of our open positions at www.arcadia.org/jobs
---
Please note that the application software is not supported by mobile devices
(WE DO NOT accept Resumes, so please do not send a Resume to apply for this position)
The Arcadia Family of Companies is comprised of the following non-profit organizations:
Arcadia Retirement Residence
15 Craigside
Central Union Adult Day Care and Day Health Center
Arcadia Home Health and Home Care Services
Arcadia at Home
The Arcadia Family of Companies is an Equal Opportunity Employer
177 total views, 2 today
Apply for this Job